Why Vinyl home flooring is becoming more popular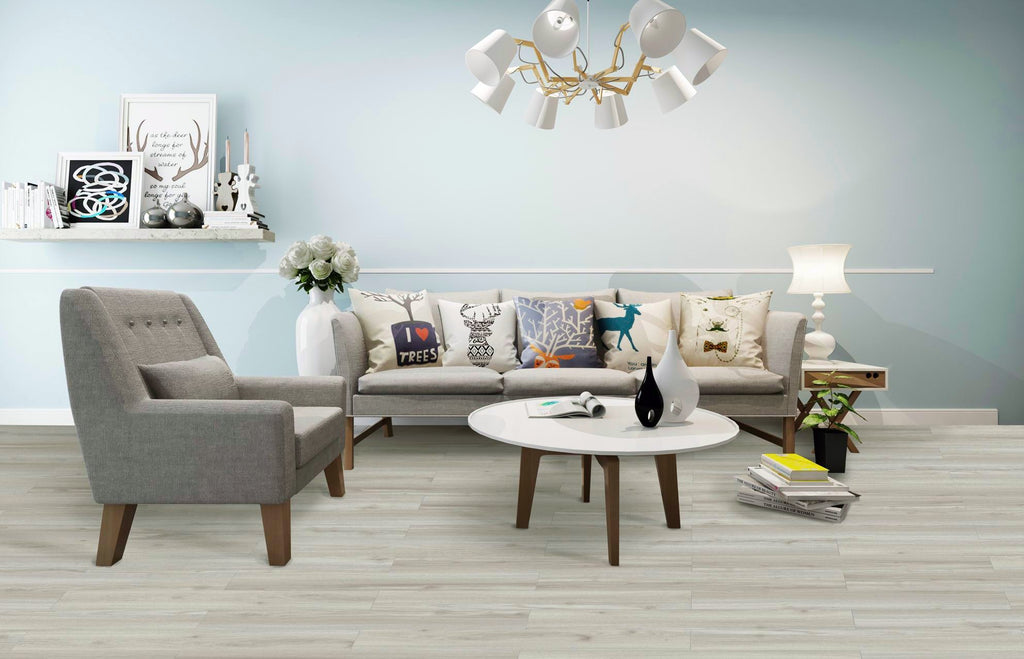 Looking for affordable flooring that's durable and family friendly?
Vinyl flooring may be the best choice.
In recent years, vinyl flooring has become a lot more popular. With nearly half (47.8%) of replacement flooring in residential homes being vinyl, this flooring is commonly available.
Vinyl floors is commonly known as the economical choice for homes and offices.
Many homeowners prefer vinyl flooring for its many benefits, such as easy installation, easy to maintain, can last a long time, and is very durable.
Here are the best advantages of using vinyl flooring.
Many choices
Buyers don't have to worry about a lack of choice when buying vinyl. Since vinyl is quite big in the flooring market, there's many manufacturers that produce all types of vinyl flooring.
This means customers can find a wide variety of colors, patterns, and styles for their homes.
Here are the different types of vinyl flooring.
Sheet vinyl: This is the standard and most common flooring. Sheet vinyl is made up of thin, flexible sheets of vinyl that comes in either 6 or 12 foot wide length. Because of the wide size, whole rooms can be filled using few of these sheets. Sheet vinyl is usually installed by using glue
Vinyl tiles: This is similar to sheet vinyl flooring above, yet it's sold in boxes of square pieces.
Luxury vinyl: Known as LVT, this material is much thicker than the other two vinyl above. LVT are produced in either planks or tiles. A big advantage of luxury vinyl is installation where it doesn't take any glue to install. Instead, these floors are installed by click-lock. These planks has the look of wood and because of its high-quality, LVT can add real estate value to a home.
Here at Dotfloor, we specialize in luxury vinyl flooring.
Affordable cost
By square foot, vinyl flooring is actually one of the more affordable, cost-efficient materials. Normal vinyl flooring typically costs $2 to $3 a square foot, while luxury vinyl tile ranges from $3 to $6 a square foot with self-installation.
Customers can choose to go with the more lower end, budget sheet vinyl or the more expensive luxury vinyl options.
In addition, compared to other flooring materials like wood, ceramic, and stone, vinyl flooring's price compares favorably. It's a lot cheaper than the aforementioned products and provides quality flooring.
Comfortable and user-friendly
Vinyl floors are quite comfortable for walking. From going barefoot to wearing shoes, vinyl provides a soft walking surface that's easy on the feet. Vinyl flooring is less shock resistant and less tiring when standing on them for long periods of time.

Vinyl is also great during the cold winter, as it feels a lot warmer to go barefoot than stone or ceramic.
Very durable and stain-proof
Vinyl flooring is durable and stain-proof, two attributes many homeowners look for. The flooring has a built-in protect layer, so it can withstand a lot of pressure. They're designed to be stepped on often and are installed in rooms with a lot of foot traffic.
Vinyl is also water resistant. Vinyl flooring shrugs off juice, soda, and water spills, which is great for homes with kids or areas where people will carry their drinks.
This flooring is also resistant to scratches, a great option if homeowners have pets or babies.

Yet, this does not mean scratch-proof, as a very sharp object or repeated scratches in the same area will damage the floor.
Backed by long warranties
Nearly all manufacturers provide a 10-20 year warranty to customers. Even better, more companies are starting to move towards the longer 20 year warranties.
For customers that want more security for their flooring, customers can choose sheet vinyl provides.  Sheet vinyl flooring can be installed in one long piece – or smaller, but long continuous pieces – with few seams. This provides greater durability.
Easy installation
One of vinyl's biggest selling points is its ease of installation.
For vinyl flooring, such us ours, are DIY. These floors are click-lock meaning the floors can be easily installed by sliding them.

Thus, homeowners do not need any knowledge in floor installation to put down these vinyl flooring options, as they do not take any glue or staples.
Here's an installation video below:
Vinyl can also be placed over existing floors, such as placing it over wood and concrete surfaces.
Conversely, vinyl tiles can be removed with little difficulty, with damaged flooring also being replaced easily.
Recommended places to use vinyl flooring
Because of vinyl floor's durability and easy maintenance, most rooms in the home are compatible with it. Here are the best places to install vinyl flooring include:
Kitchens
Bathrooms
Basements
Living or family rooms
Laundry rooms
Wrapping it up
Vinyl flooring is a great choice for a waterproof, scratch resistant, affordable surface. It's a great economical choice for offices and especially homeowners.
For buyers that want higher quality, luxury vinyl provides that quality and adds real estate value to a home.
While vinyl surfaces does have its limitations – such as not being environmental friendly – and not the best choice in every home, it's a solid choice for most homeowner's needs.
-----
If this article made you interested in getting vinyl floors, we got you! Check out our products below.