How To Install
Installation Instruction
Dotfloor is strong, durable and designed to stand up to lots of foot traffic in entry areas, kitchens and commercial spaces. Available in a range of looks from classic laminate designs and textures to styles that look like natural hardwood and stone, Dotfloor also allows you to tailor your new flooring to your décor needs.
Ready to learn more about installing Dotfloor in your home or commercial space? Reach out to our trained representatives today. We can help you locate the right materials and ensure that you've got everything you need to update your floors whether you're doing it yourself or hiring top-notch pros. We'll even ship your supplies right to your door.
Planks Installation
Accessories Installation
Tools
How to Prep a Concrete Subfloor for Dotfloor?
Concrete is a common subfloor material, and in general, it's easy to prepare for Dotfloor installation project. If your concrete subfloor was just poured, you'll need to allow it to properly cure for a minimum of 60 days before your Dotfloor installation begins.
Here's step-by-step guide to help you prep a concrete subfloor for Dotfloor vinyl:
Step 1:
Test the moisture content of your concrete subfloor. You can do this with a moisture meter, ensuring that your reading is no more than three-pounds per 1,000 square feet per 24 hours. Another option is to tape a piece of your vinyl flooring to the concrete for 72 hours. If the flooring comes up easily, you'll need to reduce the moisture content of the room via dehumidification and repeat the test.
Step 2:
Thoroughly clean your subfloor. Start by sweeping up any debris. You can also use a wet/dry vacuum for a deep cleaning. Just make sure your floor dries completely before moving to the next step.
Step 3:
Check your subfloor to make sure it is level. Test multiple areas using a large level. Note any low or high spots.
Step 4:
Level your floor by filling low spots with patching compound and a putty knife. Use medium-grit sandpaper to smooth the area, cleaning thoroughly when you're done.
Step 5:
Use a belt sander to reduce high spots. Clean any debris to ensure a spotless subfloor.
Step 6:
Begin your luxury vinyl flooring installation once your subfloor is clean, dry and level.
Pro Tip
You'll need to install a vapor barrier if you're using floating vinyl flooring. Use this guide to learn more about the differences between glue down and floating vinyl plank flooring.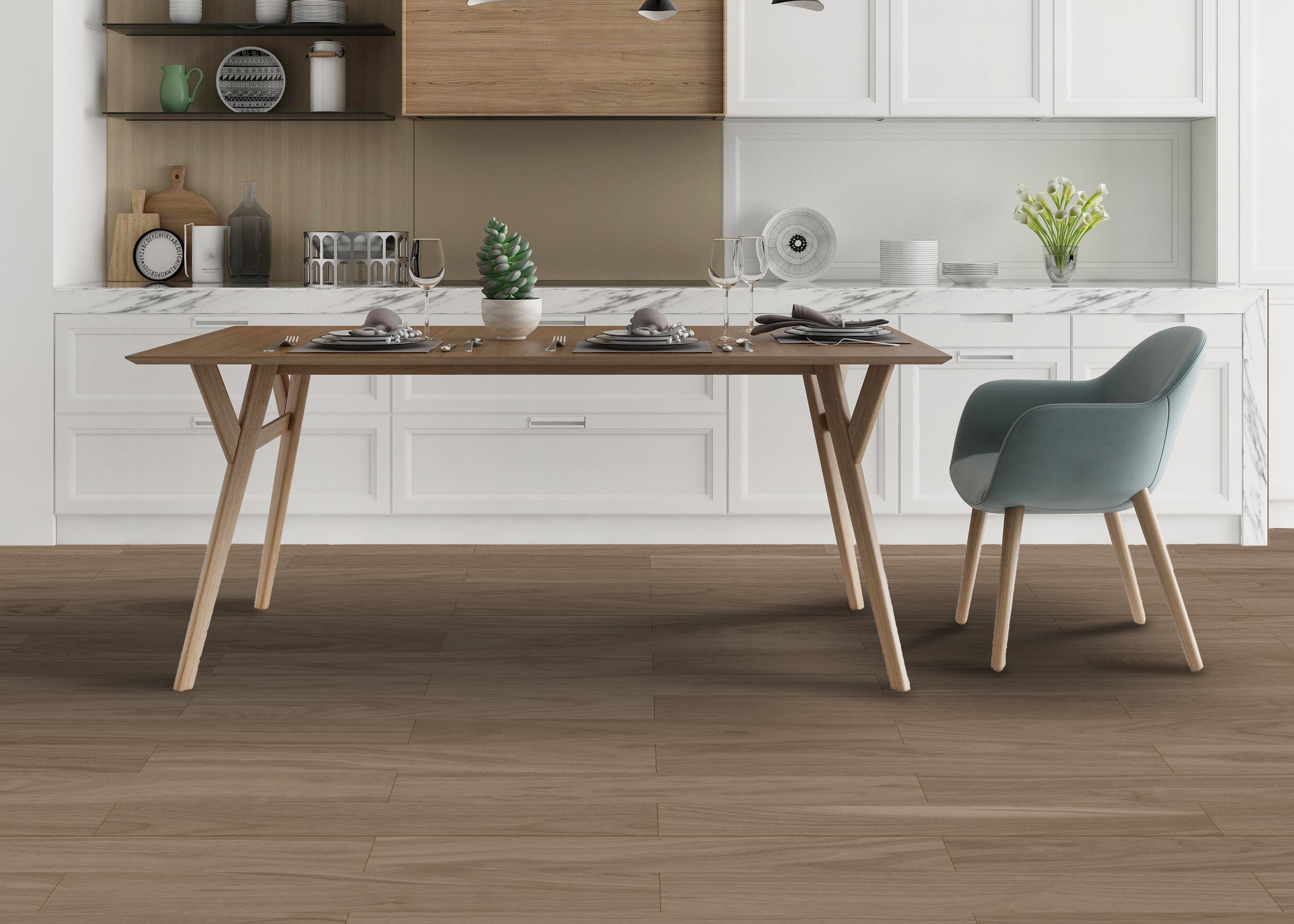 Preparing a Wood Subfloor for Dotfloor
Wood subfloors are durable and designed to last, but the process of installing luxury vinyl flooring over wood is slightly more complex than concrete. It's still a manageable job if you have a little DIY skill.
Here's a step-by-step guide to help you prepare a wood subfloor for luxury vinyl:
Step 1:
Cover your existing subfloor area where new vinyl flooring will be installed with 1/4-inch plywood. Measure carefully to ensure that the plywood is an appropriate fit. You can have these pieces cut by a lumber yard or use a circular saw on the job site.
Step 2:
Place your plywood pieces so their joints don't go directly over the joints of your wood subfloor. Leave a 1/4-inch expansion gap around walls and joints.
Step 3:
Secure your plywood pieces in place using 1-inch decking screws. Hide screw heads below the surface of your plywood pieces to create an even work area.
Step 4:
Use appropriate floor patching compound to fill in the areas over screw heads. Smooth these areas using medium-grit sandpaper to create a perfectly level surface for your luxury vinyl material.
Step 5:
Clean your floors thoroughly to ensure no debris remains. You can use a wet/dry vacuum if you allow time for the wood to dry before you begin the installation process.
Step 6:
Begin your luxury vinyl flooring installation once the area is clean, dry and level.
Can I Install Dotfloor an Existing Floor?
Some people choose to install luxury vinyl flooring over an existing floor to save both time and money. Vinyl material that's in place, as well as tile flooring, are generally the easiest to work with.
In many cases, a new installation without removing your existing floor is possible, but the process is somewhat different. How to prepare your floor will also depend on the existing material you have.
Here are a few things to know about installing luxury vinyl flooring over an existing floor:
Your existing floor needs to be as clean as possible. Use an appropriate household cleaner. You may want to repeat the cleaning process more than once.You'll need to fill cracks between existing vinyl flooring materials with patching compound. Cement-based mixes work best for leveling grout lines when dealing with existing tile floors. Sand these areas to ensure a smooth, level surface all over.Moisture content matters when installing luxury vinyl flooring over existing materials. While your set floor is likely to be dry, patching compound and cement-based mixes must also adhere to moisture requirements. Use a moisture meter or perform the 72-hour tape test with a piece of your new vinyl flooring.
Order & Delivery
Changed and Cancelled Orders
Changed and Cancelled Orders
Orders can be changed on the day of sale, prior to 3:00 pm pacific time. After this time, there is no guarantee that an order can be changed or cancelled from shipping out of our warehouses. Orders that are cancelled that have not been shipped are assessed a non negotiable 10% cancellation fee.
Orders can also be cancelled after they have shipped. In this event, the order is subject to a non negotiable 25% cancellation fee as well as the cost to stop and return the shipment charged by the shipping company.
Order Processing
Confirm Order
After your sales order has processed, you will receive a sales fulfillment email. This document will include: your sales order number, order summary, tracking number, tracking links, and delivery instructions. Please review the order prior to it shipping to confirm everything is correct.
Order Fulfillment Orders that are received before 11:00am PST will ship "Next Day," unless otherwise noted.
Orders that are received after 11:00am PST will be processed the "Next Day" and shipped the following business day.
Order cancellations must be initiated over the phone with your salesperson.
Orders cancelled after being shipped will be treated as a "return" and will be assessed a 25% non-negotiable restocking fee plus any associated freight charges
Shipping & Delivery
Processing Your Shipment
Dotfloor orders are packaged and prepared carefully. All shipments are inspected to ensure proper quantities and styles are correct. Depending on the type of product ordered, packaging and freight service may vary.
Depending on the size of the order, we can also ship via Fed Ex Ground.
We do offer expedited shipping, call for pricing and availability – 1 (800) 642-9929
Let your sales representative know at the time of sale if there are low hanging trees, electrical wires, windy or narrow roads that may prevent access for a freight truck. Dotfloor will make every attempt to find a carrier that can complete the delivery if notified prior to shipping. If we are not notified prior to shipping and the driver cannot complete the delivery it may be necessary for you to meet the driver at the closest drop off point to off load the delivery or pick it up from the terminal. Re-delivery fees could apply.
Dotfloor Product Delivery
5 boxes or below Flooring UPS or Fedex Ground
Above 5 Boxes Flooring and Trims Freight Truck
2 Rolls below is UPS or Fedex Ground
Above 2 Rolls Underlayment on Freight Truck
Installation Kits and Uniform on UPS or Fedex Ground
Shipping via Freight is Monday thru Friday.
Tracking Your Order
Tracking Your Order
Once your order has left our facility, you will receive an email with all the appropriate package and tracking information. The delivery company contact information is provided in the tracking number email. All communication related to the delivery status and its scheduling is facilitated with the transportation company.
PLEASE NOTE: Please allow up to 48 hours for your tracking number to register as active after you receive your order tracking email from Dotfloor's shipping department. We recommend that you contact the delivery company in order to verify your product's delivery date. The typical window for delivery during the day is an A.M. or P.M. delivery. On delivery day the delivery company will make a curbside delivery.
On Delivery your order
In the rare occasion that a product is damaged in transit, follow these steps:
1. Count and verify the number of cartons.
2. Inspect the cartons carefully for any kind of rips, tears, punctures, dents, crushed corners, wetness or any other signs of possible damage.
3. If you see that the package is damaged open it immediately and inspect the condition of the product.
4. If the package has damage, note all shortage or damage on delivery receipt. Please be specific about the quantity of damaged or short product and its current condition.
5. If you are unable to open the cartons, but see that the cartons are not in perfect condition, then note all visible details on the delivery receipt.
6. If your merchandise is damaged, you must keep the outer carton(s) for inspection and/or carrier pick-up We assist with replacements only with exchange on damaged items.
7. If the product is in very poor condition, you have the option of refusing it, but also make a note on delivery receipt.
Please contact us as soon as possible if the product is damaged or missing. If the damage or missing product is not noted with the carrier there is a 4-day window from time of delivery that Dotfloor has to be notified within for a complimentary reshipment.
Dotfloor products will have color variation since they are made from natural materials. Please open 1 box prior to acclimation or installation to ensure you are pleased with the color. Open product is not returnable. Please see our return and exchange policy for any applicable fees.
We appreciate your cooperation with these guidelines; they can help make receiving freight a much easier experience.
Warranty
Policy
Special Offer
Empire
Accessories